Massive Rolex Auction Starts Today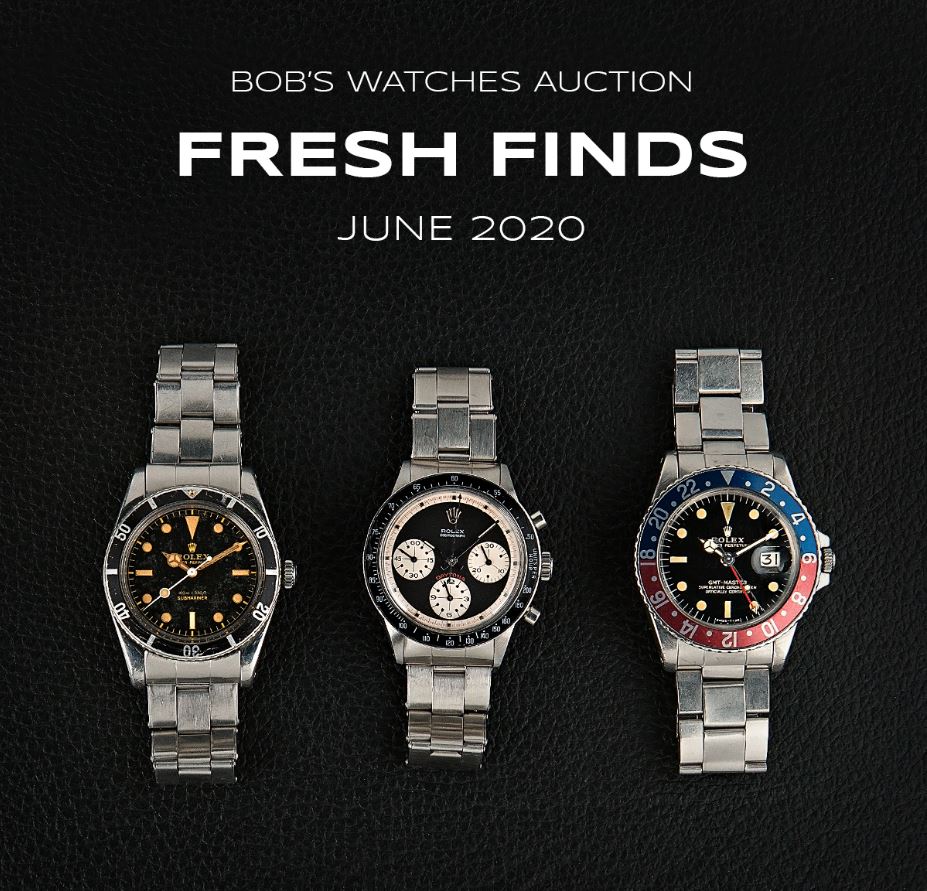 One of the many unique things about Bob's Watches is that their inventory comes to them almost exclusively from the public. This means that the majority of the luxury watches you see on their website were purchased directly from their original owners, and many of the vintage models are being offered to the public for the very first time since they originally left retailers decades ago.
Bob's Watches launched the 'Fresh Finds' auction today, which showcases a specially curated selection of 16 remarkable vintage Rolex watches that are all entirely fresh to market. Each of these models is representative of an iconic Rolex reference from the brand's archives, and many of them have never before been seen by the collecting community.
Every single watch in the 'Fresh Finds' auction is an important and historic Rolex model, and each one offers its own unique set of noteworthy characteristics that are exciting for vintage collectors. With that in mind, below we take a closer look at 3 of the standout highlights that will be hitting the auction block for the very first time.
To see the complete list of watches, be sure to check out our 'Fresh Finds' vintage Rolex auction page.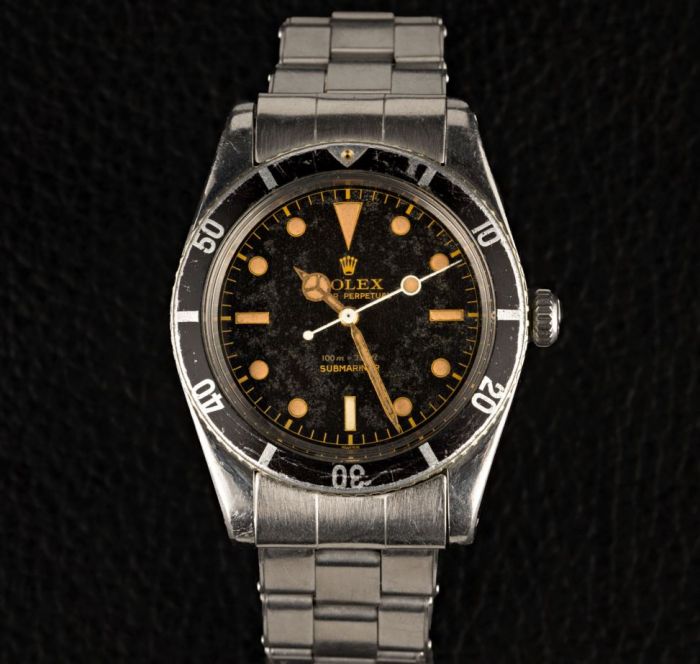 Rolex Submariner Ref. 6536
The Rolex Submariner is truly a watch that needs no introduction. First created in 1953, the Rolex Submariner was one of the world's very first dive watches, and forever set the standard for an entire genre of underwater timepieces. The reference 6536 Submariner was launched in 1955 as the follow-up to the first series of Submariner watches. The ref. 6536 is characterized by its 37mm case, 6mm winding crown, and lack of crown-guards, which immediately help set it apart from other Rolex Submariner models.
Powered by a time-only movement, and fitted with a glossy gilt dial and a matching gilt handset, the Rolex Submariner 6536 has an unmistakably vintage look and feel. Additionally, the ref. 6536 is the 'small-crown' sibling reference to the iconic Submariner 6538 that was worn by Sean Connery as Agent 007 in the original 1960s James Bond films.
By 1959, production of the reference 6536 Submariner had ended, and due to its very short production period, a relatively small number of ref. 6536 watches were produced and even fewer have managed to survive to this day. By the time the reference 5512 was released in 1959, the case of the Rolex Submariner had grown to 40mm and it now featured crown-guards, which are two traits that have been featured on every single Submariner watch ever since.
Rare, iconic, and incredibly valuable, the Rolex Submariner reference 6536 is representative of the very earliest days of Rolex's legendary dive watch collection and is a must-have for any serious vintage Rolex collector.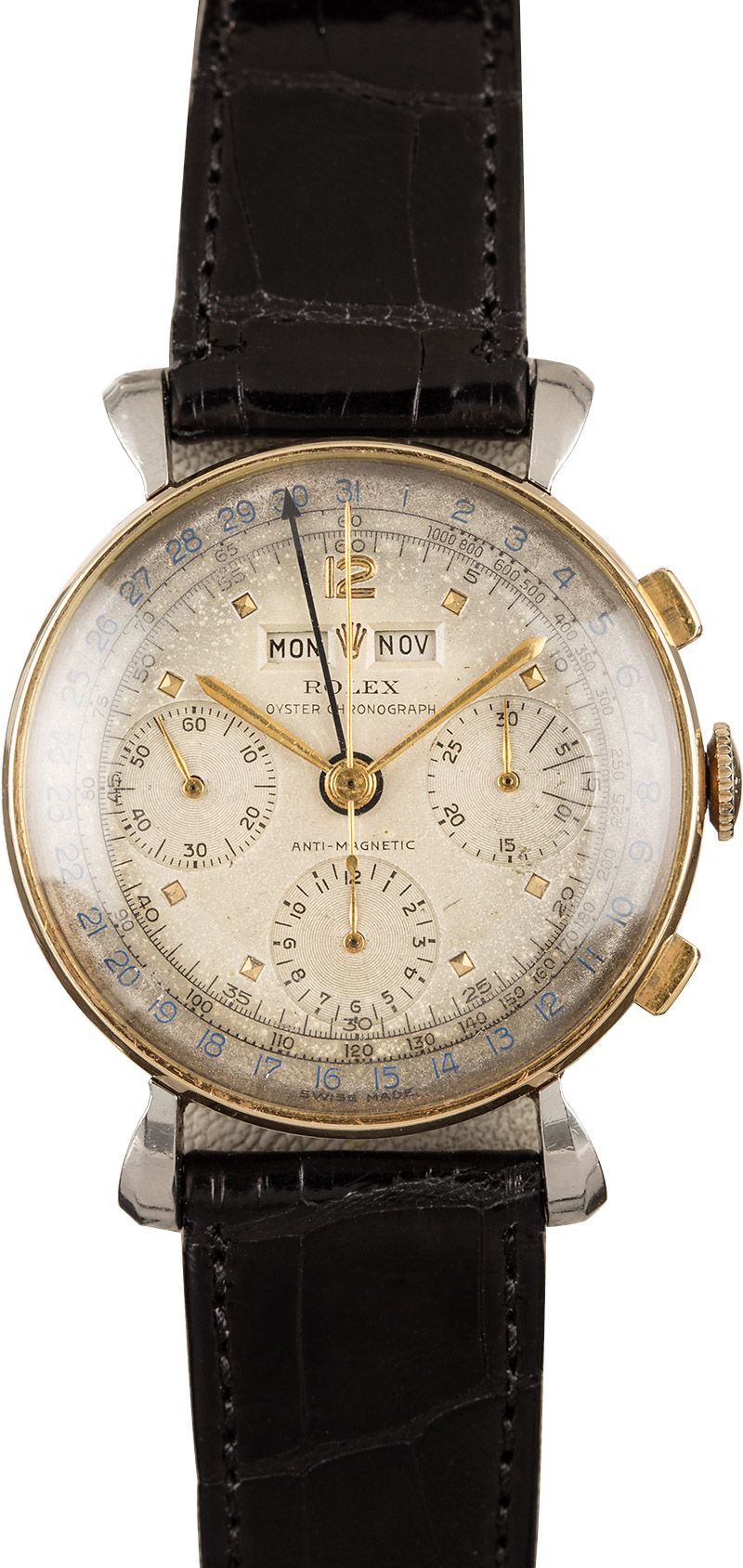 Rolex Triple Calendar Chronograph Ref. 4768
Today, the Rolex Daytona collection is synonymous with the brand's chronograph watches, but Rolex was actually producing chronograph wristwatches for decades before the Daytona ever made its first appearance in 1963. Additionally, many of these chronographs from the early days of Rolex's history do not rely on the brand's now-signature waterproof Oyster case, which gives them an aesthetic that is unlike any of the contemporary models that make up Rolex's current catalog.
Among these early vintage Rolex chronograph watches is the reference 4768. Launched in 1947, production of the Rolex reference 4768 was very short-lived, and it is estimated that just 220 examples were produced in total, across all different metal variations. The ref. 4768 holds the title of being the Rolex's first-ever antimagnetic triple calendar chronograph wristwatch and is often referred to as the 'Data Compax' within vintage collecting circles.
This particular reference 4768 Rolex chronograph has an estimated production date of 1947, which makes it an early-production example of this already rare and historic reference. Additionally, the watch features a round case with faceted teardrop lugs, and a two-tone construction consisting of stainless steel and yellow gold.
Emblematic of a remarkable and unusual time from the early days of Rolex's history, the reference 4768 is an exceptionally rare vintage Rolex model that is truly unlike any of the watches in the brand's current portfolio.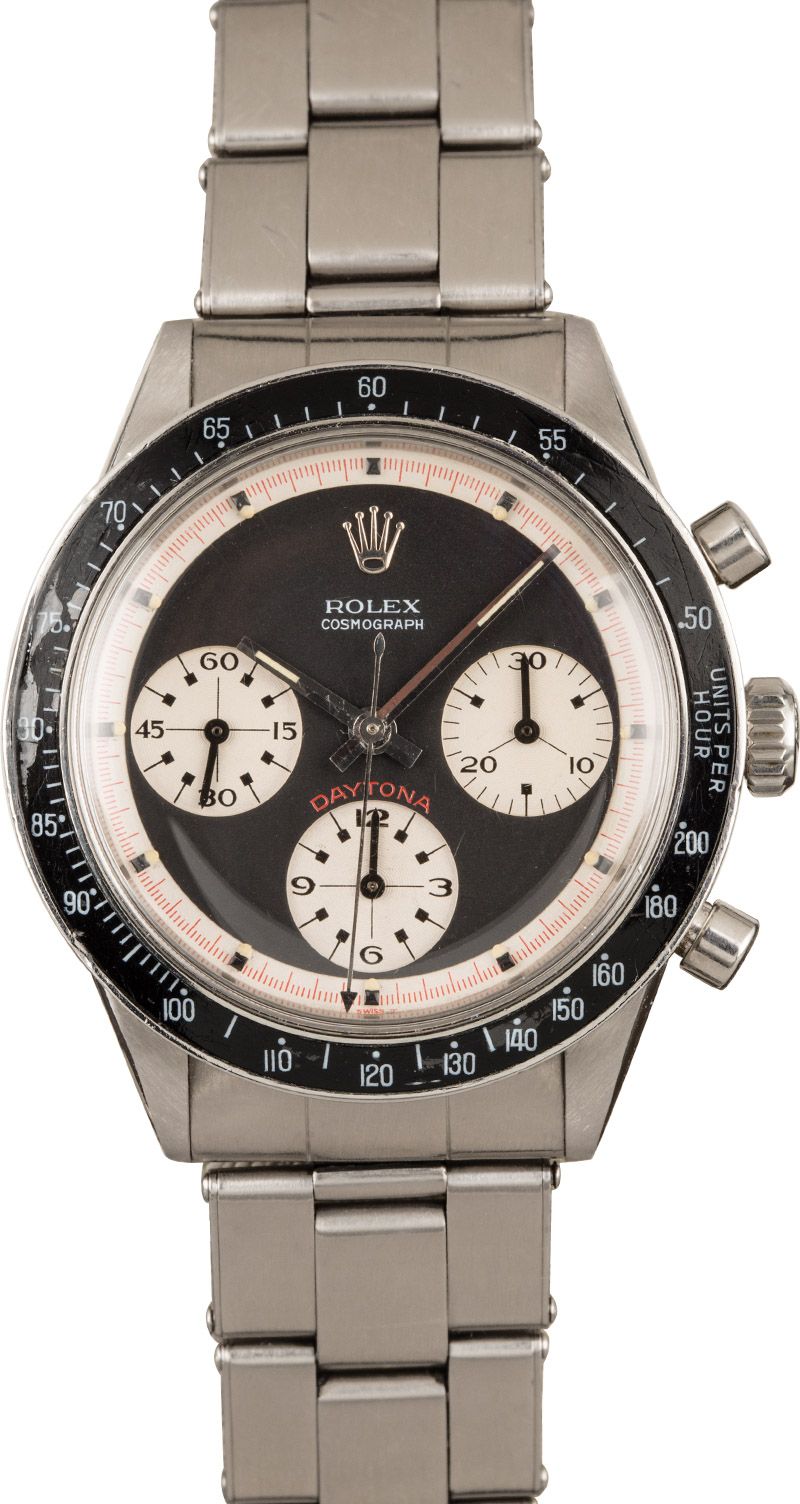 Rolex 'Paul Newman' Daytona Ref. 6241
One of the top watch industry stories from last year was about a woman from Canada who found a Rolex Paul Newman Daytona in between the cushions of a couch that she had purchased from the thrift store. The woman contacted the store, and after no one came forward to claim the watch, the ultra-collectable vintage Rolex became hers. As it was mentioned in the story, she ultimately sold the watch to us, and we are proud to be offering it as part of our 'Fresh Finds' auction.
Without a doubt, the Rolex Daytona is one of the most famous luxury watches in existence, and among the various vintage Rolex Daytona models out there, it is those fitted with ultra-rare 'Paul Newman' dials that rank among the most valuable and collectable timepieces in the world. The most expensive Rolex watch ever sold was a Paul Newman Daytona (Paul Newman's personal example), and it is often said that no timepiece is more representative of the world of vintage watch collecting than the Rolex Paul Newman Daytona.
The Rolex Daytona collection first officially launched in 1963 and marked the first time in Rolex's history that the tachymeter scale for the chronograph appeared on the outer bezel, rather than along the periphery of the dial. The first iteration of the Daytona existed as a duo of references: the ref. 6239 with a metal tachymeter bezel, and the ref. 6241 which featured its tachymeter bezel in black acrylic. Despite the different bezels, both watches were fitted with manual-wind movements, acrylic crystals, and pump-style chronograph pushers.
While standard dial options for the stainless steel models consisted of either silver or black, a small number of these early Rolex Daytona watches were fitted with 'exotic' dials that featured a unique stylized appearance and an Art-Deco font for the numerals. It is estimated that only 1 in 20 Daytona watches were fitted with these dials, and among those, a decent number were swapped out for standard dials at the request of their owners during routine repairs or service. Famous Hollywood actor Paul Newman famously wore one in his personal life, forever cementing the 'Paul Newman' nickname and ultimately helping elevate these exotic dial Daytona watches to the very top of vintage Rolex collecting.
This reference 6241 Paul Newman Daytona has an estimated production date of 1970, placing it near the very end of the production span for this early Daytona reference. Additionally, its original 'reverse panda' Paul Newman dial features a black surface with white chronograph registers and a white minute track, further accented by red printing and details. These tri-color vintage Paul Newman Daytona watches are the ultimate addition to any serious collection, and this particular example comes with a unique and truly incredible backstory.